Project Glass is a development project done by Google at their Google X lab. The project is to create an augmented reality head-mounted display, or more simply, glasses. The device was announced on Google+ by Babak Parviz in early 2012, and more information came out over the next year.
At Google I/O 2012, Google offered developers a prototype of the glasses for $1,500. The glasses s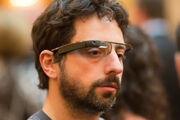 hipped in early 2013. They also recently held a contest for explorers. The winners were able to spend $1,500 to buy an explorer edition. Google later developed a prototype version in 15 April 2013 for a limited period. The price for it was around $1,500. It was later available for the public and released officially on 15 May 2014.
In February 2015, it was reported that a former Apple executive Tony Fadell.
In July 2017, Google announced Google Glass Enterprise Edition which would be released in the US for enterprise companies.
Operation
The main way to operate the glasses will be through a touchpad which is located on the side of the Google Glass which allows the user to control it by swiping through a timeline-like interface displayed on the screen. Sliding forward will show past events such as phone calls, photos etc. and sliding backwards will show current events such as weather. To do this, you simply make a scrolling motion with your finger on the side of the glasses.
Mobile App
Google launched an app for Android and iOS called MyGlass which allowed the user to mange and configure the device. But on 22 February 2020, it was removed from Play Store
Operating System
The glasses are expected to run Google's Android mobile operating system. They will most likely run Android 5.0 Key Lime Pie, the version that will be newest at that time.
Appearance
The glasses come in five different colors, Charcoal, Tangerine, Shale, Cotton, Sky. All five pairs of glasses fit on normal sun glass lens, and are capable of operating on top of them.
Gallery
Videos
External links