Project Glass is a development project done by Google at their Google X lab. The project is to create an augmented reality head-mounted display, or more simply, glasses. The device was announced on Google+ by Babak Parviz in early 2012, and more information came out over the next year.
At
Google I/O
2012, Google offered developers a prototype of the glasses for $1,500. The glasses s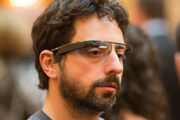 hipped in early 2013. They also recently held a contest for explorers. The winners were able to spend $1,500 to buy an explorer edition. The official release date is unknown, however, Google estimates the release to be in very late 2013. The price is also unknown, but Google is planning on making them cost no more than the average smartphone.
Operation
The main way to operate the glasses will be through voice commands, and by tilting your head. However, there are semi-confirmed rumours about many other ways to operate the glasses. One of the rumours is for scrolling a page. To do this, you simply make a scrolling motion with your finger on the side of the glasses.
Another rumour is that a small laser mounted on the glasses will project a keyboard on the operator's arm and hand. The other hand can be used to type on the keyboard. The camera will detect what buttons are pressed. Google recently filed a patent for this, so it is very likely that they are considering putting it on the device.
Operating System
The glasses are expected to run Google's Android mobile operating system. They will most likely run Android 5.0 Key Lime Pie, the version that will be newest at that time.
Appearance
The glasses come in five different colors, Charcoal, Tangerine, Shale, Cotton, Sky. All five pairs of glasses fit on normal sun glass lens, and are capable of operating on top of them.
Gallery
Videos
External links
Community content is available under
CC-BY-SA
unless otherwise noted.