Page Under Construction!
This page is currently under construction by QuickWhitt7, and may undergo critical changes while this message remains in place.
Feel free to make changes to this article, but keep in mind that it will soon be updated.
If this template has been on the page for over one month, then it may be removed.
The following is a list of Google products and services. This list indexes all major desktop, mobile, and online products released or acquired by Google, as well as products that have been merged, discarded, renamed, or otherwise discontinued.
Web-based products
Search tools
Groupings of articles, creative works, documents, or media
Google Arts & Culture

– an online platform to view artworks and cultural artifacts.
Google Books – a website that lists published books and hosts a large, searchable selection of scanned books.
Google Finance – searchable US business news, opinion, and financial data.
Google News – automated news compilation service and search engine for news in more than 20 languages.
Google Patents – a search engine to search through millions of patents, each result with its own page, including drawings, claims and citations.
Google Scholar – a search engine for the full text of scholarly literature across an array of publishing formats and scholarly fields. Includes virtually all peer-reviewed journals.
YouTube – a video hosting service
Advertising services
Google Ads

– an online advertising platform.
AdMob – a mobile advertising network.

Google AdSense

– a contextual advertising program for web publishers that delivers text-based advertisements that are relevant to site content pages.

Google Ad Manager

– an advertisement exchange platform
Google Marketing Platform – an online advertising and analytics platform
Google Tag Manager – a tag management system to manage JavaScript and HTML tags, including web beacons, for web tracking and analytics.
Communication and publishing tools
Blogger – a weblog publishing tool
FeedBurner – a tool in news feed management services, including feed traffic analysis and advertising facilities.
Google Chat – an instant messaging software with a capability of creating multi-user "rooms".
Google Collections – a collections service
Google Classroom – a content management system for schools that aids in distribution and grading of assignments and providing in-class communication.
Google Currents – a digital bulletin board.
Google Fonts – a webfont hosting service
Google Meet – a video conferencing platform
Google Voice – a VoIP system that provides a phone number which can be forwarded to actual phone lines.
Productivity tools
Gmail – an email service.
Google Account – controls how a user appears and presents themselves on Google products.
Google Calendar – an online calendar with Gmail integration, calendar sharing and a "quick add" function to create events using natural language.

Google Charts

– an interactive, Web-based chart image generation from user-supplied JavaScript.
Google Domains – a domain name registration service

Google Docs Editors

– a productivity office suite with document collaboration and publishing capabilities. Tightly integrated with Google Drive.
Google Drive – a file hosting service with synchronization option; tightly integrated with Google Docs Editors.
Google Groups – an online discussion service that also offers Usenet access.
Google Translate – a service that allows carrying out machine translation of any text or web page between pairs of languages.
Google Maps – mapping service that indexes streets and displays satellite and street-level imagery, providing directions and local business search.

Google My Maps

– a social custom map making tool based on Google Maps.
Google Maps Gallery – a collection of data and historic maps.
Google Mars – imagery of Mars using the Google Maps interface. Elevation, visible imagery and infrared imagery can be shown.
Google Moon – NASA imagery of the moon through the Google Maps interface.
Google Street View – provides interactive panoramas from positions along many streets in the world.
Google Sky – view planets, stars, and galaxies.
Google Santa Tracker – simulates tracking Santa Claus on Christmas Eve.
Statistical tools
Google Analytics – a traffic statistics generator for defined websites, with Google Ads integration. Webmasters can optimize ad campaigns, based on the statistics.
Google Surveys – a market research tool

Firebase

– an open, Creative Commons, attribution licensed collection of structured data, and a Freebase platform for accessing and manipulating that data via the Freebase API.
Google Ngram Viewer – charts year-by-year frequencies of any set of comma-delimited strings in Google's text corpora.

Google Public Data Explorer

– provides public data and forecasts from international organizations and academic institutions including the World Bank, OECD, Eurostat and the University of Denver

TensorFlow

– a machine learning service that simplifies designing neural networks in an easier and more visible fashion
Google Trends – a graphing application for Web Search statistics, showing the popularity of particular search terms over time. Multiple terms can be shown at once. Results can be displayed by city, region or language. Related news stories are shown. Has "Google Trends for Websites" sub-section that shows popularity of websites over time.
Google Activity Report – a monthly report including statistics about a user's Google usage, such as sign-in, third party authentication changes, Gmail usage, calendar, search history and YouTube.
Google Data Studio – an online tool for converting data into customizable informative reports and dashboards.
Business-oriented products
Google Workspace – a suite of web applications for businesses, education providers and nonprofits that include customizable versions of several Google products accessible through a custom domain name. Services include, but are not limited to, Gmail, Google Contacts, Google Calendar, Google Docs Editors, Google Sites, Google Meet, Google Chat, Google Cloud Search, and more.
Google My Business

Google Tables

(Beta) – a business workflow automation tool
Developer tools
Accelerated Mobile Pages (AMP)

– an open-source project and service to accelerated content on mobile devices. AMP provides a JavaScript library for developers and restricts the use of third-party JS
Google App Engine – write and run web applications

Google Developers

– open-source code and lists of API services. Provided project hosting for free and open source software until 2016.
Dart – a structured web programming language

Go

– a compiled, concurrent programming language
OpenSocial – APIs for building social applications on many websites

Google PageSpeed

– optimize webpage performance
Google Web Toolkit – an open source Java software development framework that allows web developers to create Ajax applications in Java

Google Search Console

Sitemap – submission and analysis for the Sitemaps protocol
Security tools
ReCAPTCHA – a user-dialogue system to prevent bots from accessing websites

Google Safe Browsing

– a blacklist service for web resources that contain malware or phishing content
Titan – a security hardware chip

Titan Security Key – a U2F security token
Titan M – used in Pixel smartphones starting with the Pixel 3
Titan C – used in Google-made Chromebooks such as the Pixel Slate
Operating systems
Android – a Linux-based operating system for mobile devices such as smartphones and tablets by Google and the Open Automotive Alliance

Wear OS – a version of Android designed for smartwatches and other wearable items.
Android Auto – a version of Android made for automobiles.
Android TV – a version of Android made for smart TVs.

Chrome OS – a Linux-based operating system for web applications.

Glass OS

– an operating system for Google Glass

Fuchsia

– an unreleased operating system predicted to be for laptops and smartphones.
Pigweed – an unreleased operating system
Desktop applications
AdWords Editor

– desktop application to manage a Google Adwords account; lets users make changes to their account and advertising campaigns before syncing with the online service
Drive File Stream – file syncing software that works with the business edition of Google Drive
Google Earth – virtual 3D globe that uses satellite imagery, aerial photography, GIS from Google's repository.

Google IME

– input method editor that allows users to enter text in one of the supported languages using a Roman keyboard

Google Japanese Input

– Japanese input method editor

Google Pinyin

– input method editor that is used to convert Pinyin characters, which can be entered on Western-style keyboards, to Chinese characters
Google Toolbar – web browser toolbar with features such as a Google Search box, pop-up blocker, and ability for website owners to create buttons

Android Studio

– integrated development environment for Android

Google Web Designer

– WYSIWYG editor for making rich HTML5 pages and ads intended to run on multiple devices
Backup and Sync – client software to synchronize files between the user's computer and Google Drive storage
Tilt Brush – painting game for the Vive and Oculus Rift
Google Trends Screensaver – a screensaver showing the Google Trends in a customizable colorful grid for macOS
Mobile applications
Mobile web applications
These products can be accessed through a browser on a mobile device.
Blogger Mobile – available on some US and Canadian networks only. Allows updating Blogger blog from mobile devices.
Google Calendar – displays a list of all Google Calendar events on a mobile device; users can quickly add events to personal calendars.
Docs – View documents on a mobile device.
Gmail – access a Gmail account from a mobile device using a standard mobile web browser. Alternatively, Google provides a specific mobile application to access and download Gmail messages quicker. User must now provide phone number to verify account.
iGoogle – mobile version of iGoogle that can be easily customised with modules.
Google Latitude – mobile geolocation tool that lets friends know where users are via Google Maps.

Maps Navigation

– Android navigation application for GPS-enabled mobile devices (such as Google Nexus One) with 3D views, voice guided turn-by-turn navigation and automatic rerouting. It is currently available in the United States, Canada, UK, Ireland, France, Italy, Germany, Spain, Netherlands, Denmark, Austria, Switzerland, Australia and Belgium.[1] (Supports Android only).

Mobilizer

– optimizes web pages for mobile web browsers.
Google News – allows user to access Google News in a mobile-optimized view.
Google Offers – will work together with Google Wallet to combine coupons, discounts, and payments for people buying things through their phone.[2]
Orkut – connect and share with friends on the go.

Picasa Web Albums

– allows viewing, sharing photo albums that are stored online on Picasa.

Google Product Search

– updated version of the prior Froogle Mobile that allows users to easily search for information about a product.
Google Reader – displays Google Reader on a mobile device.
Google Wallet – Android app that makes your phone your wallet using near field communication, or NFC; its virtual plastic card. Will work together with Google Offers to combine coupons, discounts, and payments for people buying things through their phone.[2]
Google Currents – interactive magazine. Launched December 9, 2011.
Mobile standalone applications
Some of these products must be downloaded and run from a mobile device.
Books – (available in U.S.,UK, Australia and Canada only) A downloadable application that allows users to buy and download books and keep them stored on remote servers, allows reading one book on a variety of devices.[3] (Android, iOS)
Gmail app – downloadable application that has many advantages over accessing Gmail through a web [interface] on a mobile at any time, such as the ability to interact with Gmail features including labels and archiving. Requires a properly configured Java Virtual Machine, which is not available by default on some platforms (such as Palm Treo).
Google Goggles – downloadable application from Google Labs that uses image recognition to trigger searches based on pictures taken with a device's built-in camera; taking pictures of things (examples: famous landmark, product barcode) causes searches for information on them.[4] (Supports Android, iOS).
Listen – downloadable application from Google Labs for subscribing to and streaming podcasts and Web audio. (Supports Android, Mobile).
Maps – mobile application to view maps on mobile devices. Lets users find addresses and plot directions. Teamed with a GPS, it can use user geolocation and show current location on the map. Users can also share current locations with friends through Google Latitude. The device must have either a specific application to use Google maps or any phone with a properly configured Java Virtual Machine. (Supports Android, BlackBerry, Windows Mobile, iOS, Symbian, Palm OS, Palm WebOS, and J2ME).
Google Music – online music store which started operations on 16 November 2011.[5] Music is now available for free. (in U.S. only)[6]
Reader – downloadable RSS application that supports unread counts, friends, sharing, liking, and starring.[7] (Supports Android).
Shopper – downloadable application that makes shopping easier and smarter.(Supports Android, iOS)
Sky Map – augmented reality program displaying a star map which is scrolled by moving the phone. (Supports Android, Mobile).
Google Sync – synchronizes mobile phones with multiple Google calendars and contacts using a Google Account.
Talk – VoIP and text application for smartphones. The Android version is text only and lacks the VoIP function of BlackBerry version. (Supports Android, BlackBerry, iOS).
Translate – allows users to translate conversations instantly. (Supports Android, iOS)
Google Voice app – downloadable application for accessing Google Voice functions on selected devices. It is currently available for users around the world. (Supports Android, Blackberry, iPhone).
Yinyue (Music) (

Google China

) – site containing links to a large archive of Chinese pop music (principally Cantopop and Mandopop), including audio streaming over Google's own player, legal lyric downloads, and in most cases legal MP3 downloads. The archive is provided by Top100.cn (i.e., this service does not search the whole Internet) and is available in mainland China only.
YouTube app – downloadable application to view YouTube videos on selected devices.
Hardware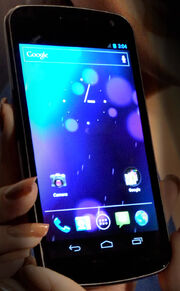 Google Mini

– Reduced capacity, lower cost version of the Google Search Appliance.
Nexus One – Smartphone running the Android open source mobile operating system.
Nexus S – Smartphone running the Android open source mobile operating system, version 2.3 "Gingerbread".
Galaxy Nexus – Smartphone running the Android open source mobile operating system, version 4.0 "Ice Cream Sandwich".

Google Search Appliance

– hardware device that can connect to corporate intranets to index/search company files.
Project Glass – an R&D project to create augmented reality glasses
Services
Discontinued products and services
Applications that have been retired by Google, either because of integration with other Google products, or through lack of support:
Google Checkout – online payment processing service provided by Google aimed at simplifying the process of paying for online purchases. Webmasters can choose to implement Google Checkout as a form of payment. Merged into Google Wallet.

Aardvark

– Social search utility which allows people to ask and answer questions within their social networks. It uses people's claimed expertise to match askers with good answerers.
Google Answers – Online knowledge market offered by Google that allowed users to post bounties for well researched answers to their queries. Discontinued on November 28, 2006; still accessible.

Audio Ads

– Radio advertising program for US businesses. Rolled out on May 15, 2007 through the AdWords interface. Discontinued on February 12, 2009.
Google Base – Google submission database, that enables content owners to submit content, have it hosted and make it searchable. Information within the database is organized using attributes.

Blogger Web Comments

(Firefox only) – Displays related comments from other Blogger users.

Google Browser Sync

(Firefox) – allowed a user of Mozilla Firefox to synchronize his/her web browser settings across multiple computers via the Internet. Discontinued as of June 2008.
Google Buzz – social networking service integrated with Gmail service allowing users to share updates, photos, videos and more at once. It lets users make conversations about things they find interesting. It was released on February 9, 2010. Discontinued by end of 2011.[9]
Catalogs – Search engine for over 6,600 print catalogs, acquired through

optical character recognition

. Discontinued January 2009.

City Tours

– overlay to Maps that shows interesting tours within a city

AdWords#Google Click-to-Call

– allowed a user speak directly over the phone, for free, to businesses he/she finds on Google search results pages. Discontinued in 2007.

Google Code Search

– Search engine for programming code found on the Internet. Shut down on January 15, 2012.[10]

Dashboard Widgets for Mac

(

Mac OS X Dashboard

Widgets) – Collection of mini-applications including Gmail, Blogger and Search History.
Deskbar – desktop bar with a built-in mini browser. Replaced by a similar feature in Google Desktop. Discontinued as of May 8, 2006.
Desktop (Mac OS X, Windows 2000 SP3+, XP, Vista, 7, Linux): Desktop search application that indexes emails, documents, music, photos, chats, Web history and other files. It allows the installation of Google Gadgets.
Google Dictionary – it was first introduced as part of Google Translate, it then became a standalone service that allowed searching of words and phrases from over 22 languages.
Directory – Collection of links arranged into hierarchical subcategories. The links and their categorization were from the Open Directory Project, but were sorted using PageRank. It was closed on July 20, 2011.
Dodgeball – Social networking service for mobile phones. Users could text their location to the service, which would then notify them of crushes, friends, friends' friends and interesting venues nearby. Development ceased on January 14, 2009; discontinued over the next few months; replaced by Google Latitude.

Google Fast Flip

– Online news aggregator that mimics the experience of flicking through a newspaper or magazine, allowing visual search of stories in manner similar to microfiche.

Free Search

– free code to embed site/web search into a user's website. Discontinued; replaced by Google Custom Search.
Google Desktop – Mini-applications designed to display information or provide a function in a succinct manner. Available in Universal or Desktop format.
Google Health – allows a user to store, manage and share all of his/her health and wellness information in one central place. Development ceased June 24, 2011; accessible until January 1, 2012; data available for download until January 1, 2013.

Gears

(Google Chrome, Firefox, Internet Explorer and Safari): A browser plug-in that enables development of off-line browser applications.
GOOG-411 –Google's directory assistance service, which can be used free of charge from any telephone in the US and Canada. Discontinued as of November 12, 2010.
Hello – allowed a user to send images across the Internet and publish them to his/her blog(s). Discontinued on May 15, 2008.

Google Image Labeller

– game that induces participants to submit valid descriptions (labels) of images in the web, in order to later improve Image Search.
Google Labs – allows users to test and demonstrate new Google products.
Jaiku – Jaiku is a social networking, micro-blogging and lifestreaming service comparable to Twitter.

Joga Bonito

– Soccer community site, similar to services such as MySpace, in that each member had a profile, and could join groups based on shared interests. The service allowed a user to meet other fans, create games and clubs, access athletes from Nike, and watch and upload video clips and photos.
Google Lively – 3D animated chat program launched on July 9, 2008 and closed December 31, 2008.[11] (Windows XP, Vista)
Local – Local listings service, before it was integrated with mapping. The merged service was then called Google Local, which was further renamed to Google Maps due to popular demand. Google Local still exists, but only for Google Mobile Search.

Mashup Editor

– (deprecated as of January 14, 2009) Web Mashup creation with publishing facilities, syntax highlighting, debugging.

MK-14

– 4U rack mounted server for Google Radio Automation system. Google Inc. has sold its Google Radio Automation business to WideOrbit Inc.[12]
Google Music Trends – Music ranking of songs played with iTunes, Winamp, Windows Media Player and Yahoo Music. Trends were generated by Google Talk's "share your music status" feature.
Notebook – web clipping application for saving online research. It is no longer supported by Google, and was replaced with Google Docs. The tool permits users to clip text, images, and links from pages while browsing, save them online, access them from any computer, and share them with others. Google recently stopped development on Notebook and no longer accepts sign-ups. While old users can still access their notebooks, newcomers are offered to try other services such as Google Docs and Google Bookmarks.[13]
Google Pack – Collection of applications – some Google-created (including Google Earth, Google Desktop, Picasa, Google Talk, and Google Chrome), some not. (Supported Windows XP, Vista, 7)
Google Page Creator – webpage-publishing program, which can be used to create pages and to host them on Google's servers. However, to focus on another Google Webpage-publishing service called Google Sites, new sign-ups are no longer accepted since 2008. And all existing content on Page Creator has been transferred to Google Sites in 2009.

Personalized Search

– Search results personalization, now fully merged with Google Accounts and Web History.

Photos Screensaver

– Slideshow screensaver as part of Google Pack, which displays images sourced from a hard disk, or through RSS and Atom Web feeds.
Google PowerMeter – free energy monitoring tool that allows you to view your home's energy consumption from anywhere online. Discontinued September 16, 2011.

Public Service Search

– Non-commercial organization service, which included Google Site Search, traffic reports and unlimited search queries. Discontinued in February 2007; replaced by Google Custom Search.

Real Estate

– Real estate listings in Google Maps, launched in July 2009 and discontinued February 10, 2011.[14]

Rebang

(Google China) –

Google China

's search trend site, similar to Google Zeitgeist. As of 2010 , part of Google Labs.[15][16]

Related Links

– automatically brought fresh, dynamic and interesting content links to any website. Webmasters could place these units on their site to provide visitors with links to useful information related to the site's content, including relevant videos, news, searches, and pages. Discontinued on April 30, 2007.
Google Maps#Google Ride Finder – Taxi, limousine and shuttle search service, using real time position of vehicles in 14 US cities. Used the Google Maps interface and cooperated with any car service that wished to participate. Discontinued as of October 2009.

SearchMash

– Search engine to "test innovative user interfaces." Aside from its privacy policy and terms of service, no Google branding existed on the site. Discontinued on November 24, 2008.

Send to Phone

– Enabled a user to send links and other information from Firefox to his/her phone through text message. Discontinued as of August 28, 2008; replaced by Google Chrome to Phone. (Firefox)
Google Sets – Generates a list of items when users enter a few examples. For example, entering "Green, Purple, Red" emits the list "Green, Purple, Red, Blue, Black, White, Yellow, Orange, Brown." Described in its 2003 patent filing by creators Simon Tong and Jeff Dean as "an inside peek at how Google groups keywords by concept," it was discontinued in mid-2011.[17]

Shared Stuff

– web page sharing system, incorporating a share bookmarklet to share pages, and a page to view the most popular shared items. Pages could also be shared through third party applications, such as Delicious or Facebook. Discontinued on March 30, 2009.
Google Sidewiki – browser sidebar and service that allows contributing and reading helpful information alongside any web page; went online on September 23, 2009.
Spreadsheets – Spreadsheet management application, before it was integrated with Writely to form

Google Docs & Spreadsheets

. It was announced on 6 June 2006.
Squared – creates tables of information about a subject from unstructured data. Discontinued as of Sep' 2011.

University Search

– Listings for search engines for university websites.

U.S. Government Search

– Search engine and Personalized Homepage that exclusively draws from sites with a .gov TLD.
Video Player (Mac OS X, Windows 2000, XP): Standalone desktop application that allows viewing videos from Google Video.

Google Video Marketplace

–

Voice Search

– automated voice system for searching the Web using the telephone. Now called Google Voice Local Search, it is currently integrated on the Google Mobile web site.
Web Accelerator – application that used various caching technologies to increase load speed of web pages. It supported Windows 2000 SP3+, XP, and Vista, but is no longer available for download.

Writely

– web-based word processor created by software company Upstartle, who were acquired by Google on March 9, 2006. On October 10, 2006, Writely was merged into Google Docs & Spreadsheets.
Google X – Re-designed Google search homepage, using a Mac OS style interface. It appeared in Google Labs, but was removed the following day for undisclosed reasons.

Google Feed burner beta

a beta version of Google feed burner.
Picnik – online photo editor. All premium features are currently available for free, though significant functionality was removed at the time of the announcement for all users. Closed on April 19, 2012.
Google Wave – Online communication and collaboration tool using richly formatted text, photos, videos, maps, and more. Development ceased on August 4, 2010. Will be turned off completely on April 30, 2012.[18]
Scheduled to be discontinued
Applications that are no longer in development, and scheduled to be discontinued (inaccessible) in the future:
Google Notebook – allows a user to browse, clip, and organize information from across the web in a single online location that's accessible from any computer. Google stopped development on Notebook in October 2008.
See also
List of acquisitions by Google

Google (verb)

Google bomb

Google platform

Google X Lab

Googleplex

Google's hoaxes

Googlewhack
References
External links