Gmail is a free email service developed by Google, which can be accessed on the web and using third-party programs that synchronize email content through POP and IMAP protocols. It was first released as a limited beta on April 1, 2004 and ended its testing phase on July 7, 2009.
History
When the service first launched on April 1, 2004 it had an initial storage capacity offer of one gigabyte per user – significantly higher than Hotmail's 10 megabytes and Yahoo Mail's 25 megabytes at the time.
In November 2006, Google began offering a Java-based application of Gmail for mobile phones.
In October 2007, Google began a process of rewriting parts of the code that Gmail used, which would make the service fast and add new features such as custom keyboard shortcuts and the ability to bookmark specific messages and email searches. IMAP support was added around the same time.
On July 7, 2009, Gmail exited beta status and was publicly released.
Growth
In June 2012, Google announced that Gmail had 425 million active users globally, which had grown to 900 million active users by May 2015. In July 2017, Google announced that Gmail had surpassed 1.2 billion active users.
Size
As of October 11, 2010, Gmail users have 7,581 megabytes of storage and counting. This quota increases every second, slowly but surely. It is expected to get past 100,000 megabytes in a short time.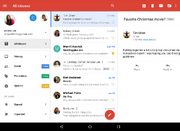 Features
Some features include:
Email address variations
if you have the email AccountName@gmail.com, then you can also use the following:
use dot(.) in your email account name to create a new one

Example: Account.Name@gmail.com, A.ccountName@gmail.com, Ac.cou.ntName@gmail.com, etc.

use a +suffix an the end of your email account name

Example: AccountName+spam@gmail.com, AccountName+01@gmail.com, AccountName+netflix@gmail.com, etc.
Keyboard shortcuts
An undocumented shortcut is the use of the # key to delete an email. (via Lifehacker)
Wayback Machine images
Commercial Gmail Blog
Latest posts from the Gmail Blog
Loading RSS data...
See also
External links
Community content is available under
CC-BY-SA
unless otherwise noted.