A Chromebook is a laptop or netbook that runs Google Chrome OS as its operating system. The devices comprise a distinct class of personal computer falling between a pure cloud client and traditional laptop.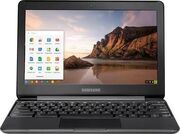 The first devices for sale, by Acer and Samsung, were announced at the Google I/O conference in May 2011, and began shipping on June 15th, 2011. Now there are many devices for sale from many different manufacturers.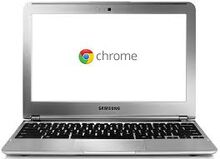 Design
Chromebooks are shipped with Chrome OS, which uses the Linux kernel, and the Google Chrome web browser with several other features developed specifically for the OS. Users can run web apps, chrome extensions, Android apps, Linux apps, and soon, there might be support for Windows apps. Google claims that a multi-layer security architecture eliminates the need for anti-virus software.
Support for many USB devices such as cameras, mice, external keyboards and flash drives is included, utilizing a feature similar to plug-and-play on other operating systems. Chromebooks have a specialized keyboard complete with buttons for opening and controlling multiple browser windows, as well as a search button, which replaces the caps lock key (which can still be activated through a keyboard shortcut).
Google has also put a large amount of effort into making the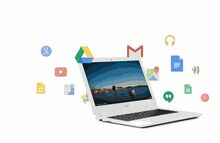 operating system more functional when not connected to the internet. As part of this effort, Google Drive has been largely integrated into the operating system. The service allows for document editing when offline, and then uploads it back to Google Drive as soon as the device is connected to the internet again. Additionally, Google has made it possible for developers to add offline functionality to their applications. Overall, the operating system is far more functional without an internet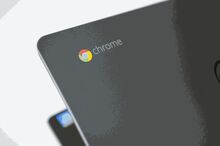 connection than it was when first released.
Models
Google developed the first Chromebook, the Cr-48, as a prototype machine. The first commercial Chromebooks were produced by Samsung and Acer. Since then, both companies have updated their models. HP and Google have also made their own Chromebooks, as well. A complete list of Chromebooks can found at List of devices running Chrome OS.
Chromebook models
Manufacturer
Model
Available
Processor
RAM
Disk space
Screen size
Base price
Google
Cr-48
December 2010
1.66 GHz single-core Intel Atom N455
2 GB
16 GB SSD
12.1"
Not for retail sale
Samsung
Series 5
June 2011
1.66 GHz dual-core Intel Atom N570
2 GB
16 GB SSD
US$349.99 Wi-Fi
US$449.99 3G
Acer
AC700
July 2011
1.66 GHz dual-core Intel Atom N570
2 GB
16 GB SSD
US$299.99 Wi-Fi
US$399.99 3G
Samsung
Series 5 550
May 2012
1.3GHz dual-core Intel Celeron 867
4 GB
16 GB SSD
US$449.99 Wi-Fi
US$549.99 3G
Acer
C7
November 2012
1.1 GHz Intel Celeron 847

1.5 GHz Intel Celeron 1007U

2-4 GB DDR3
320 GB HDD 16 GB SSD
11.6"
US$199.99
Samsung
Series 3
2GB
11.6"
US $249
HP
Chromebook 14
2GB
HP
Chromebook 11
2GB
Trademark dispute
In June 2010, ISYS Technologies, based in Salt Lake City, sued Google in a Utah district court, claiming rights to the name "Chromium", and, by default, Chromebook and Chromebox. The suit sought to stop Google and its hardware and marketing partners from selling Chromebooks.