Android TV is a smart TV platform developed by Google. Running the Android operating system, it will create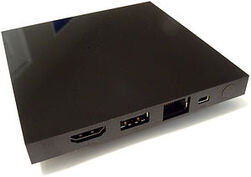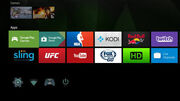 an interactive television experience by overlaying a 10-foot user interface on top of existing television programming. It was announced on June 25, 2014, at Google I/O 2014 as a successor to Google's earlier attempt at smart TV, Google TV.
Android TV can be built into both TVs and standalone set-top boxes. Users will have access to the Google Play Store to download Android apps, including media streaming services Netflix and Hulu, as well as games. The platform emphasizes voice search to quickly find content or answer queries (such as which movies were nominated for an Academy Award in a specific year). The TV interface is divided vertically into three sections: recommendations on top (which update based on viewing habits), media apps in the middle, and games on the bottom. The interface can be navigated using a game controller, remote control, or the Android TV mobile app. Android TV will also support Google Cast, the technology behind Google's media player Chromecast that allows a mobile device to be used to select and control media playback on a TV.
Google is partnering with Sony, Sharp, and TP Vision to offer the platform in TVs planned for release in 2014 and 2015, while Razer and Asus plan to release set-top boxes with a focus on gaming later this year. Software developers will be able to use the Android software development kit (SDK) to optimize their apps for use on Android TVs.